Our medically developed weight loss protocol and smarter lifestyle choices education offers dieters what they really want…a structured program that can put an end to constant dieting.
This program has been an answer to prayer for me. I have prayed for several years for God to heal my metabolism, Grant me permanent weight loss and renew my youth according To God's word. Then this program fell into my lap. I was skeptical at first, but when I saw others drop the weight and keep it off, I decided to try it. It has been easy and successful for me. Luann K... Read more..
Debi Crandall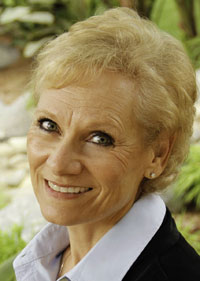 Debra L. Crandall, RN graduated from the St. John's Hospital nursing school in 1976. Her class was the last to graduate from the school. It was also the end of a time when nursing was about people instead of process. Debi carried the lessons of hospital corners and back rubs with her into her career.
She worked in many areas of nursing, including Cardiac Critical Care, before settling into hospice and home health. Along the way she studied naturopathic medicine and nutrition. This venue and these fields, along with her allopathic background allows her to practice nursing that her teachers at St. John's would be proud of. Compassionate, personal involvement with the patient and their family is enhanced by education in nutrition, warning signs, and effective self-care. She knows that changing a wound dressing will not lead to full recovery without a holistic approach to health and the active, informed participation of the patient.
Debi has expanded her practice to include a weight loss clinic. After battling her own weight problem for years, her research led her to Ideal Protein. This program confirmed what she knew–that sugar is a major contributor to the biggest health problem in America: Obesity. Debi lost sixty pounds, gained health and vitality and is now helping others to do the same. Her honest desire to help people and her knowledge of health and nutrition are a perfect fit for this new addition to her nursing practice.*
Her company, Doxa Radiant Health, provides weight loss counseling and private nursing services, including medication management, body wraps, ear candling, and aromatherapy.
Education:
RN – 1976 
Bachelor of Holistic Nutrition from Clayton College graduating with Highest Honors – 2010
Memberships:
National Association of Nutritional Professionals 
National Association of Professional Women 
National Association of Integrative Medicine
*Results while following the Ideal Protein Weight Loss Method will vary
Doxa Radiant Health is Authorized to Use the Ideal Protein Weight Loss Protocol and Products. The testimonials on this website are those of the individual that is identified, you should not necessarily expect to receive these results. Typical results vary from person to person and individual to individual when the Ideal Protein Weight Loss Protocol is followed properly. You should consult your physician or other health care professional before starting this or any other diet program to determine if it is right for your needs.
2440 Southwest Blvd, Suite 100 Tulsa, OK 74107 – Phone: 918-277-2185
Copyright © 2018 Ideal Protein All rights reserved.